UpWind Solutions was honored to be selected as one of the companies that Secretary of Energy Dr. Ernest Moniz visited at WINDPOWER 2015 in order to display our latest developments in wind farm O&M Excellence.
"We are counting on you being a huge part of the solution," said U.S. Secretary of Energy Dr. Ernest Moniz regarding wind energy to the audience at the opening ceremony of WINDPOWER 2015. This was a historic year for the conference as it was the first time in 15 years that the Secretary of Energy has made an appearance, shown support and a renewed commitment to wind energy.
After the opening ceremony, the secretary toured the show floor and visited a few key booths, including UpWind Solution's, to see how an O&M provider is innovating to help drive down the costs of wind and make it a competitive source of renewable energy.
UpWind's team welcomed Secretary Moniz and the president of AWEA Tom Kiernan by demonstrating the new SkySpecs drone technology that will revolutionize blade inspections with a high quality, safe, and lower cost solution for wind farm owners to rapidly inspect their fleet using an unmanned aerial vehicle (UAV).
Watch a video of UpWind demonstrating the SkySpec's drone collision avoidance technology at WINDPOWER 2015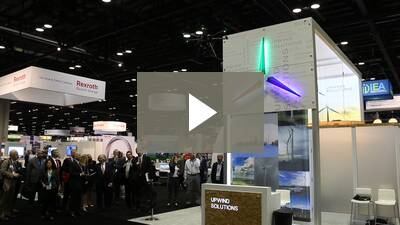 In Dr. Moniz's concluding notes of the welcoming ceremony, he reinforced the importance of driving down costs to make wind more competitive and reach our nation's tough targets; "And so we need to keep working to get that technology evolving; to keep, again, driving down the costs; to getting deployments that greatly enlarge the footprint for economic deployment of wind. And if we can do that – and, frankly, only if we can do that – will we all be able to hit our necessary and ambitious targets for carbon reduction." (WINDPOWER 2015)
About UpWind Solutions
UpWind Solutions is the wind industry's most comprehensive independent service provider of maintenance, performance engineering, upgrades & repairs, parts, and technical support services. They operate and maintain a 3GW fleet of all major OEM technologies in North America with over 300 highly trained technicians and engineering team. For additional information visit: http://www.upwindsolutions.com