"Drones do not yet make other inspection methods obsolete."
Drones are a hot topic in wind right now. They're an exciting new technology which is quickly developing and determining how they can add value to wind farm owners is being explored. Today, every wind conference, email newsletter, and magazine has an article regarding drones. Typically, the articles regarding
wind turbine inspection
promise lower costs, higher quality reports, at faster speeds, all from a safe distance on the ground.
While it's exciting, wind turbine owners should be cautious of the hype. Drones do not yet make other inspection methods obsolete. It is important to consider the objectives, before determining which method of inspection will meet the objectives and provide the most value. Drones have a lot of potential in the wind industry as technologies for controlled flight, battery life, sensors, and integration continue to improve. The key considerations remain the same as in any form of inspection: safety, report quality, insight, cost, timing, and meeting inspection requirements. Drones are not an immediate game changer for the industry, but there is little doubt that drones are here to stay, and they have the potential to reduce costs, deliver more data, and provide a safer form of inspection than sending technicians up the blade.
For now, the best inspection options remain ground and rope based inspections for wind turbine blades. When the specialized inspection capabilities include drones, there is an added benefit.
Do the homework
When considering the use of a drone, it's important to recognize the various factors which influence the cost of the service provided, as well as the resulting data and images. These factors include governmental regulations, the level of the technology, piloting skills, weather conditions, engineering reviews, and report quality.
The first thing to ask a drone inspection company is whether or not they have received an FAA Section 333 Exemption. This is a requirement for ALL commercially employed drones. Today, these exemptions require a licensed pilot to fly the drone. Usually, the skilled pilot operates the drone, maneuvering it close to the blade, while dealing with wind gusts, and often times from a difficult viewing perspective. Usually, another individual is used to "perform the inspection" and they are responsible for reviewing and assessing the images captured by the drone and pilot.
Some of the technologies which influence the cost of an inspection include: time required, and quality of the inspection. These may be affected by the drone's battery life, on board sensors and cameras, image/data storage, and flight controls. Most drones available today provide approximately 20 minutes of flight time with normal camera payloads (a GoPro), typically requiring multiple battery swaps / recharges. This can cause the time required to inspect an entire turbine to be much greater than if performed from the ground. Inspection types are typically visual, and drones require qualified pilots which means there are limits on the inspection and expectations should be gauged accordingly.
The great news is drones provide a new inspection option that continue to improve with collision avoidance, levels of autonomous flight, longer flight times, higher payloads, and alternative imaging sensors for visual and structural inspections. In addition, the FAA may eventually reduce the regulatory requirements which will make their use easier and allow for more cost effective inspections.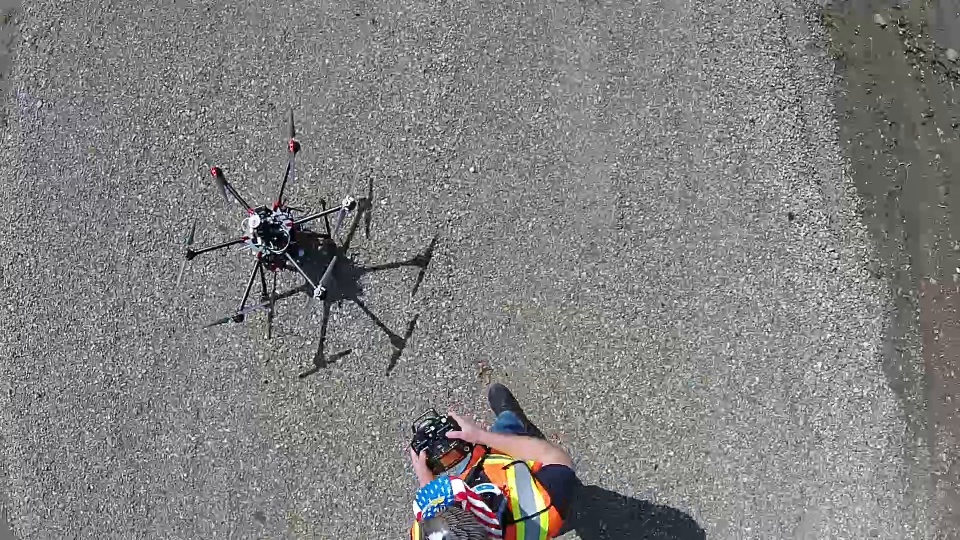 Some specifics on blade inspections
Today drones provide faster inspections with the ability to capture different angles and images of damage which allow for more accurate analysis. Below are a few tasks where drones both work well, and where it doesn't make sense to use them.
Drones are better for:
Gathering clear, high resolution photos which leave nothing to question, unlike what happens sometimes with ground based inspections;
Identifying trailing edge splits, which can be difficult to identify because of oil/dirt accumulation;
Post blade failure inspections when safety is in question;
Photographing damaged areas from multiple angles;
Providing high resolution close-up videos of the entire blade surface; and
Completing inspections in less time than rope access teams.
Drones are not better for:
Inspecting lightning protection systems (LPS);
Examining underlying damage which requires tap testing and in depth investigation to determine the proper repair required; and
Programmatic routine inspections which can be completed at a lower cost from the ground.
Look for the best fit
When selecting and implementing an inspection, or program of inspections, look at all options, assess the pros and cons of each, and choose the option which provides the flexibility, safety, quality, content, and deliverable results required. In the end, it is the report, images, and data which matter. Whether working with a drone provider, an inspection company, or wind energy services company, the key is working with the team who delivers the best reports, data and images, and inspection expertise should mean all options are available from one source.
Professional companies will inspect from the ground, from rope, and with drones. They will understand the pros and cons of each option and have developed a long term partnerships with Wind Energy providers. Drone inspection options not only deliver some great functionality today, but ultimately provide a safe, cost effective, high quality option with multiple applications.
There is a reality and a limit to drone inspections but also tremendous potential. It's an exciting development for the industry!