Performance Upgrades
Vortex Generators
UpWind Solutions partnered with SMART BLADE®, the wind industry aerodynamics experts, and 3M™ to deliver the best-in-class Vortex Generator solution for wind turbine rotor blades. The expertise of the three organizations combined created a new VG solution that is aerodynamically tested to provide the highest possible increase in AEP, with proven durability, and a standardized installation process that reduces installation costs and turbine downtime. The benefit to the customer is improved power production at low and mid wind speeds when the turbines are not producing at full capacity.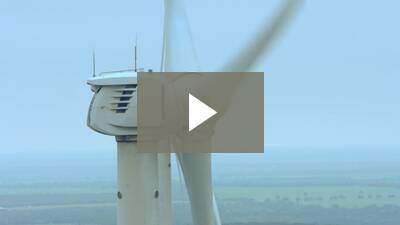 The flow visualization process SMART BLADE has developed is highly customized to the blade type. This allows for the recapturing of the maximum amount of power production otherwise lost to aerodynamic stall in the root region of the blade. Secondly, the materials (plastics and adhesives) used are designed for the harsh, UV rich environment of a high speed wind turbine blade.
The key to the UpWind Solutions/SMART BLADE/3M VG solution is a deep analysis of the blade aerodynamics in actual field conditions. Armed with a highly accurate map of the blade aerodynamics, a VG solution is designed specifically for that unique blade design. Unlike most other VGs available, the UpWind/SMART BLADE/3M VG Solution has the flexibility to place each individual VG in exactly the right location and orientation resulting in maximum AEP gains.
Leading Edge Protection (LEP)
Leading Edge Erosion occurs for many reasons including for example the environment, tower height, blade make and performance. Upwind leverages our industry wide experience when analyzing these details and its relevance to erosion repair and protection. This starts with evaluating inspection reports or completing inspections such that the "true" extent of the damage can be assessed. The results will lead to an accurate estimate of the work required and consultation on the root cause. Some of the questions we strive to answer are:
What is the age of the farm?
Is the damage normal wear and tear?
Has the erosion propagated into the structure or is only in the outer coating?
What is the prevailing weather conditions experienced on site and how has it contributed to the damage?
Additionally taking account of the blade types and their material makeup will help to inform the appropriate leading edge protection to install.
Prevention is more efficient than repair
Erosion can cause significant AEP reductions
Pits and gouges reduce AEP from 4% up to 10%
Delamination reduces AEP up to 20%
Preventative blade repair & protection reduces downtime and costs
Repair of erosion can cost 2000 - 10000 € per blade
3M Wind Protection Tape with installation will cost 600 - 1200 € per blade
and should provide 5 - 10 years of leading edge protection
ROIs from all scenarios studied were less than 11 month
SCADA & Server Virtualization
SCADA infrastructure virtualization helps owners reduce the number of servers technical staff need to support and helps to create internal company equipment life cycle plans. It provides the technical staff with a more efficient and cost effective way to manage their servers and to protect their critical infrastructure.
A wind park typically has several OEM servers such as: Real-Time SCADA Server, Database Server, and Remote Access Server, all of which take up substantial space and require a lot of man power to ensure they run at peak performance. Most wind parks which have servers that have been running since COD are out of warranty (or soon to be), the parts needed to support are becoming harder and harder to find, and they are limited by legacy software restrictions. Often, in the event of failures, support staff are required to reach out to the OEM who in turn install their own proprietary applications costing tens of thousands of dollars.
Advantages of infrastructure virtualization
Longer life cycle of critical infrastructure
Increased security for NERC while eliminating direct physical access to the actual SCADA service
Lower cost of ownership
Ability to migrate older legacy servers/software into modern technology equipment
Fewer points of failure with appropriate redundancy
Lower support requirements
Increased critical infrastructure reliability
Ability to migrate into the virtualized environment without the need of the OEM
Increased ability for testing of patch management offline without impacting production
Faster disaster recovery upon system failures without the need of the OEM