UpWind's VG Solution
UpWind Solutions partnered with SMART BLADE®, the wind industry aerodynamics experts, and 3M™ to deliver the best-in-class Vortex Generator solution for wind turbine rotor blades. The expertise of the three organizations combined created a new VG solution that is aerodynamically tested to provide the highest possible increase in AEP, with proven durability, and a standardized installation process that reduces installation costs and turbine downtime. The benefit to the customer is improved power production at low and mid wind speeds when the turbines are not producing at full capacity.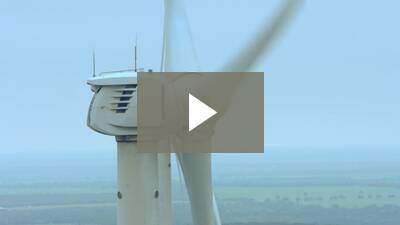 The flow visualization process SMART BLADE has developed is highly customized to the blade type. This allows for the recapturing of the maximum amount of power production otherwise lost to aerodynamic stall in the root region of the blade. Secondly, the materials (plastics and adhesives) used are designed for the harsh, UV rich environment of a high speed wind turbine blade.
The key to the UpWind Solutions/SMART BLADE/3M VG solution is a deep analysis of the blade aerodynamics in actual field conditions. Armed with a highly accurate map of the blade aerodynamics, a VG solution is designed specifically for that unique blade design. Unlike most other VGs available, the UpWind/SMART BLADE/3M VG Solution has the flexibility to place each individual VG in exactly the right location and orientation resulting in maximum AEP gains.